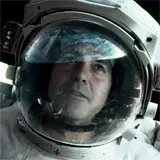 For a moment, picture yourself out in the middle of nowhere. It could be out in the middle of the ocean, an endless field or a desert. You have no way to communicate with the rest of the world, the horizon goes on forever and the silence is deafening. Now, take that feeling and place yourself in the infinite dark reaches of space. It's a pretty unsettling feeling, one that is conveyed incredibly well in Alfonso Cuaron's blockbuster Gravity, which made its home video debut just a week prior to the Academy Awards.
The story, credited to Cuaron and his son Jonas, is a simple one: debris from a destroyed Soviet satellite smashes into the space shuttle Explorer, killing its entire crew save two people who were working outside the ship. The two are veteran astronaut Matt Kowalsky (George Clooney) and a medical engineer, Dr. Ryan Stone (Sandra Bullock). With oxygen levels depleting rapidly and communication completely cut off from the planet several hundred miles below them, Stone and Kowalsky race against time to make it to the nearby International Space Station in the hopes of getting back to Earth.
Far too often these days we get big-budget effects movies guilty of the "shiny keys" syndrome: the spectacular state-of-the-art visuals are meant to divert our attention from a poorly written script and cliched characters. As budgets continue to skyrocket, this is sadly becoming the norm in the industry. Every so often though, we get an exception: a big-budget studio film that pays attention to the human and visual aspects in equal amounts. In 2012 it was Ang Lee's Life of Pi and last year it was Gravity.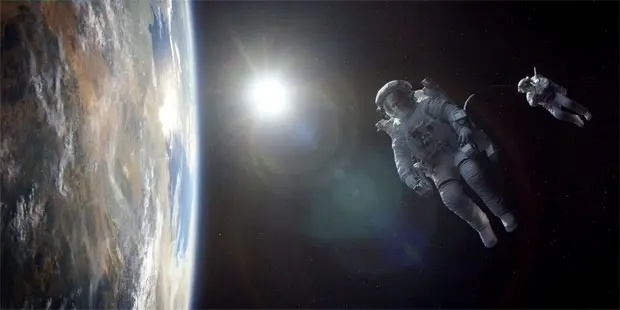 The technical brilliance that Cuaron, cinematographer Emmanuel Lubezki and their visual effects and sound teams use to transport the viewer into space is nothing short of remarkable, which is beneficial when it comes to maintaining the high level of tension that runs throughout the movie's 91-minute runtime. In addition, the Mexican filmmaker perfectly balances the intimate with the spectacular. For every grand scene of destruction, there are quiet, thoughtful thematic examinations on death, survival, birth (and rebirth) and letting go.
Despite the presence of Clooney, who is great, Gravity is Sandra Bullock's movie first and foremost. I haven't been the biggest fan of Bullock's work over the years, but after seeing her performance here I have newfound respect for the Oscar winner. She has a tremendous amount to carry on her shoulders and she does a damn fine job doing so. Even if the character arc Stone goes through is a bit predictable, it's still an engrossing one thanks to Bullock.
With its fantastic use of 3D, projected on larger-than-life IMAX screens, Gravity was one of the most extraordinary movie going events I have ever experienced. The one fear I had as the home video horizon loomed for the film was a diminished visceral impact. Shockingly enough, the film lost very little of its visual and aural splendor. The small screen unfortunately made some of the film's weak spots a bit more apparent, but certainly not enough to ruin the experience.
Gravity was a rare exception when it arrived in theaters last fall following a dizzying amount of pre-release hype. Not only did it live up to said hype, it actually exceeded it. Arriving on home video, the film once again exceeds expectations in delivering the goods despite the smaller screen. An exciting, intense, frightening and at times quite moving tale of survival, Gravity is a great film well worth checking out be it in 2D or 3D.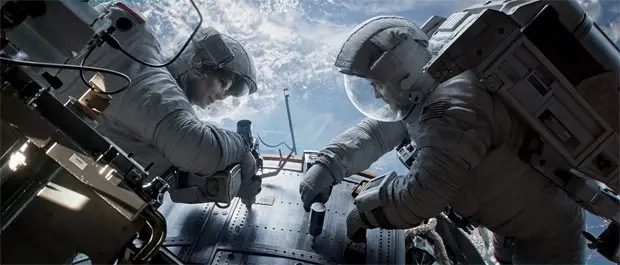 High-Def Presentation
I can only comment on the 2D edition of Gravity, but I have to say that the non-3D edition is a beauty. Colors, picture detail and black levels are all excellent, and even without the benefit of 3D, the 2D picture shows incredible depth. If there is one complaint that I have on Gravity's picture transfer it would be with some noise inherent in some of the backgrounds throughout the picture. Perhaps if Warner had dedicated more disc space to the actual movie this issue would have been eradicated, along with some online complaints that picture detail has been sacrificed in the process from theater to home video.
One area that I have no complaint about is the 5.1 DTS-HD Master Audio track. It's remarkable. Every channel is crystal clear and used to full effect, immersing the viewer like very few films do with its audio. There really isn't much more to say about this track outside of demo material.
Beyond the Presentation
If you kept saying to yourself "how did they do that?" while watching Gravity, well now is your chance to find out. Warner's supplemental material for the movie is extensive and informative and well worth checking out. Despite having several made and placed on other home video releases, no theatrical trailers for the film are included on this disc. However, I now have the trailer for the wonderful Spike Jonze film her. I guess I will have to buy that film (twist my arm) in order to get my Gravity trailer. Oh well.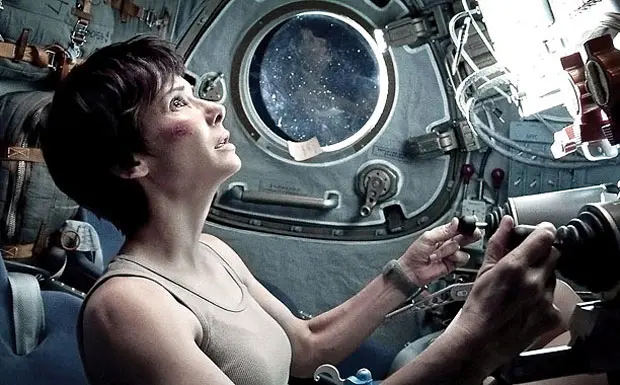 Gravity: Mission Control (107 minutes): Clocking in roughly 15 minutes longer than the actual feature, this series of featurettes (It Began with a Story, Initial Challenges: Long Shots and Zero G, Previsualizing Gravity, The Hues of Space, Physical Weightless-ness, Space Tech, Sandra and George: A Pair in Space, Final Animation and Complete Silence) can be each be played separately or as one 107-minute feature. All aspects of the production are covered and feature interviews from Cuaron, Bullock, Clooney and members of the crew.
Shot Breakdown (37 minutes): Another round of behind-the-scenes features that can be played together or separately. Behind the Visor, Fire in the International Space Station, Dr. Stone's Rebirth, The Sound of Action In Space and Splashdown give the viewer a detailed look at many of the key sequences in the movie. Behind the Visor ends with a humorous reveal from Alfonso Cuaron about an intentional gaffe.
Aningaaq (6:40): The short film directed by Jonas Cuaron that centers on the person on the other side of the radio conversation Stone has before she considers giving up. It's a nice little extra, nothing I see myself watching again but something I am soooo glad they didn't it include in Gravity.
Collision Point: the Race to Clean Up Space (22 minutes): Narrated by Ed Harris, this 22-minute special focuses on the thousands of pieces of man-made debris that orbits our planet, and how we should make cleaning it up a priority sooner rather than later. A few eye-rolling theatrical effects aside, this is actually an interesting – if a bit disturbing- special.
Film Festivals: A still page that lists all the film festivals Gravity played at prior to its early October 2013 release. Kind of pointless, but it's on there nonetheless.
It was an exceptionally strong fall and winter for movies in 2013, but Gravity was certainly one of the standouts. It's a milestone in the advancement of filmmaking from a technical standpoint. While the story and characters are a bit on the stock side, Alfonso Cuaron's brilliant, Oscar-worthy direction and a career-best turn by Sandra Bullock help the viewer forget the cliches and connect on that all-important emotional level. Warner's Blu-ray edition boasts a strong picture, an even stronger audio presentation and a solid, informative set of extras. A great motion picture worthy of addition to any home theater, Gravity comes very highly recommended.
Shop for Gravity on Blu-ray or Blu-ray 3D combo for a discounted price at Amazon.com (February 25, 2014 release date).
TheHDRoom may be paid a small commission for any services or products ordered through select links on this page.