'The Edge Of Seventeen' Review: Oh, To Be Young Again… Or Not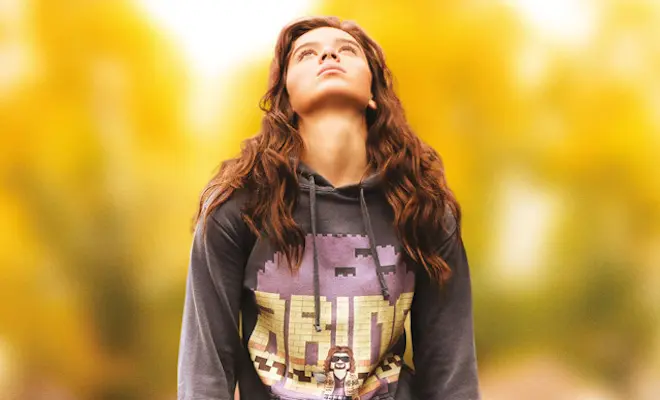 The teen comedy is a sacred film genre that shines the light on the awkwardness of that period in life between adolescence and adulthood. For many, it was an uncomfortable, harrowing, and sometimes scary situation. But it's something that all must go through, and that's why it makes for such a popular cinematic genre. In the new film The Edge of Seventeen, audiences are once again reminded that life —  good or bad — changes so much in a few short years, and luckily, in this case, at least, we get to laugh about it.
The Edge of Seventeen stars Hailee Steinfeld as Nadine, a complicated girl with undiagnosed social issues that is just trying to survive. Her best friend Krista (Haley Lu Richardson) is her lifeline, the one person who, years before, showed up "dressed like an old gentleman" and their bond was forged in their eccentrics. But now, as teens, the age of sleepovers and eating whipped cream straight for the spray can is being replaced by a looming future and, of course, boys.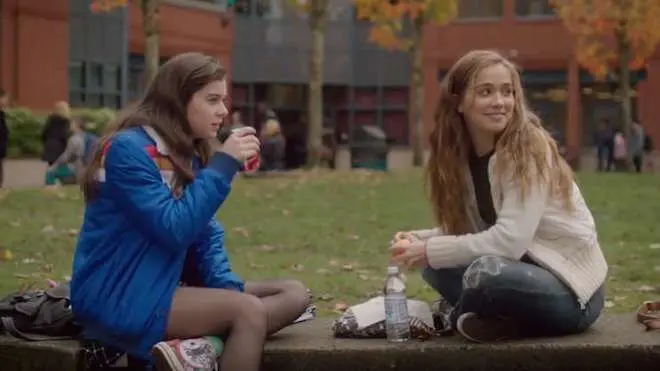 Nadine's other sole ally in her life was her father, who passed away years before, living her alone with her older brother Darian (Blake Jenner), a straight A, athletic, popular kid, and her mother, Mona (Kyra Sedgwick), an absolute mess of a woman who relies too much on her son for emotional support and often mixes up with Nadine like oil mixes with water.
Nadine is also obsessed with Nick (Alexander Calvert), a bad boy where "juvy made him so hot," has a strange relationship with her teacher, Mr. Bruner (Woody Harrelson), and is the object of affection for Erwin Kim (Hayden Szeto), though she doesn't see it as she's too much into Nick, who doesn't even know she exists.
The Edge of Seventeen takes all of these components and relationships and throws them into a blender. Krista and Darian begin dating, which is appalling to Nadine on every level, not to mention that she feels that she's lost her one true friend in the world. This event is the catalyst that turns Nadine's fragile existence on its ear and sets up some very awkward confrontations and situations, most that draw huge laughs, others that may cause squeamishness of familiarity. Either way, The Edge of Seventeen is relatable to whatever audience is watching.
The script by writer/director Kelly Fremon Craig is simply fantastic. There are echoes here of the teen dramedies that have come before, yet there is still so much new here that it resonates with so many age groups. I'm a 43-year-old male, and even I related to Nadine. Let that sink in for a second. That speaks on the strength of this script — and the film as a whole. I was not familiar with Craig before The Edge of Seventeen, but now I can't wait to see what she does next.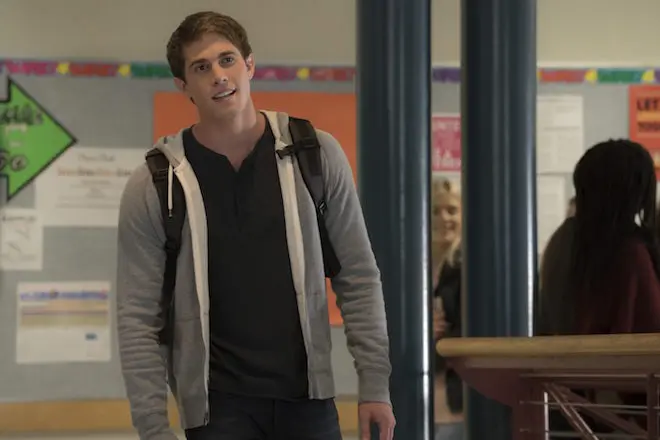 The performances in The Edge of Seventeen are also the film's greatest strength. The "Haileys" (using the common spelling for two uncommon actresses) are perfectly cast here. Hailee Steinfeld brings Nadine to life in such a way that the audience roots for her, feels for her, and also kind of hates her. She's very complicated — like our collective teenage years — and she excels here. Haley Lu Richardson toes a very complicated line as the film's villain, for lack of a better term, and also the hero's much needed sidekick. Richardson is a young actress with a ton of upside and her talent is just now beginning to show.
Blake Jenner and Hayden Szeto are both perfectly cast. Jenner plays Darian perfectly, who, on the surface, seems to be the typical "jock," but Craig's script gives him so much more to work with and he shines on some emotional levels. Szeto's Erwin may be my favorite character in any film this fall. He is incredibly awkward — even more so than Nadine — and still comes off as completely lovable and fun. His arc in the film is very satisfying and echoed my own high school life in so many ways.
The Edge of Seventeen is more than just the next entry on the high school/teen comedy genre. Kelly Fremon Craig and her young and very talented cast have elevated this film into the upper echelons of the genre. And by that, I am comparing it to the likes of The Breakfast Club, Sixteen Candles, and Fast Times at Ridgememont High. That's a heady comparison, I know, but it is truly warranted. Somewhere, John Hughes is looking down on this film with great pride, and Craig and her cast in The Edge of Seventeen should be proud that they are carrying the torch that the late director championed so well.
The Edge of Seventeen is rated R and is in theaters now.
TheHDRoom may be paid a small commission for any services or products ordered through select links on this page.