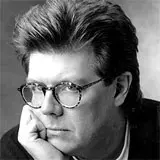 Another entertainment icon has left us far too soon.
Writer, director and producer John Hughes died earlier today at the age of 59 from a sudden heart attack while taking a morning stroll during a trip to Manhattan.
Hughes had faded from the Hollywood spotlight in recent years in order to spend more time with his family. Per IMDB.com, he had assisted in writing Drillbit Taylor, Beethoven's 5th and Maid in Manhattan.
Hughes' legacy will be defined by his accomplishments in the 1980s starting with writing the script for National Lampoon's Vacation. He would go on to fill our brains with pop culture references and memorable quotes with Sixteen Candles, The Breakfast Club, Ferris Bueller's Day Off, and Planes, Trains & Automobiles, to name a few.
If you've got a Hughes film on DVD or Blu-ray Disc at home, grab a beer and give it a spin tonight in his honor. Cheers to you, John Hughes.
Source: Variety.