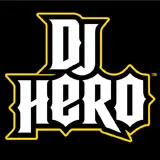 For my money the whole idea of Guitar Hero and its clones has begun to grow stale. Sure there is still fun in jamming with buds in search of the elusive finger mangling perfect score. But little surprise comes the way of new songs released since odds are you have heard them prior to playing the game in one of its many incarnations.
Rather than endlessly spew out new bands and tracks for slightly tweaked new versions of Guitar Hero with no alternatives, Activision has "spun" the music gaming genre in a similar yet remarkably fresh direction with DJ Hero for Xbox 360, Playstation 3 and Nintendo Wii. The over 90 song mixes are, for most people such as me, entirely new. The controller is unique, slick and responsive. Most importantly, the desire to keep playing is unrelenting.
Packaged in a box about half the size of Guitar Hero, DJ Hero comes with a turntable and mixer controller as two separate units. The mixer can be attached to the turntable on either side to accommodate lefty or righty spinners. It is built solidly – more so than a Guitar Hero guitar – and sits comfortably on a player's lap without the need to pull up a table as with many racing steering wheel accessories.
The turntable is a little less than a foot in diameter and spins silky smooth all the way around in either direction. Three large colored "tap" buttons appear across its face, similar to the "fret" buttons for Guitar Hero. As the beginning tutorial instructs, when the similarly colored button hits the target zone as depicted on a spinning vinyl LP you hit the corresponding tap button. It is so easy even a monkey could do it.
Not so fast there, DJ extraordinaire.
Sometimes the buttons on screen will appear as a series of small up and down arrow symbols matched to a tap button. In this instance you need to "scratch" the turntable by holding down the tap button and moving the turntable up and down in rapid succession that perfectly starts and stops with the arrows on screen. If you have seen professional DJ's in action doing quick fire scratches in short burst intervals do not worry. DJ Hero will throw those at you, too, and your fingers will feel fatigue.
Increasing the difficulty is a crossfader switch on the mixer side of the controller that requires you to move it left and right depending on lines that appear on-screen with each of the three colors. Throwing this switch left and right with all your might is simple but returning it to the center position is the real trick as there is little resistance in the switch cavity to alert you where the center is. Thankfully you do not have to land the switch dead center to be OK; at least playing the beginner and medium levels of difficulty.
Much like Guitar Hero, anyone with any semblance of gaming prowess will have no issue scoring 90% or higher on any song when playing on medium or lower difficulty. Venturing into hard and expert levels is where DJ Hero separates the best from the rest with a dizzying number of varying scratches, fast taps and crossfades requiring a conditioned "feel" for the center sweet spot hitting you all at once. Doing well on these levels, earning up to 5 stars per song to unlock new gear and clothing and being able to hit a "Euphoria" button when prompted in which the AI takes over the crossfader so you can pump and arm in the air is where the game makes you feel like a DJ superstar.
DJ Hero includes the option to play with a friend either on or offline as well as double up with a Guitar Hero guitar for a DJ jammer session. At the end of the day DJ Hero is all about you and your gear, riling up the crowd without missing your beats that cuts the music back and turns the room near silent. The music must go on, and the more you sample, the more you will want to keep playing to hear that wild mix of tunes comes next.
– Dan Bradley
Shop for the DJ Hero Bundle or Renegade Edition for Xbox 360, PS3 or Wii at Amazon.com.