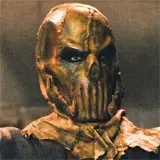 This episode of Arrow rushes along at breakneck pace, and that's not always a good thing. The rush waxes over Moira's untimely death and pushes the pieces into place for the end game without any other setup. 'City of Blood' ends with everything up in the air and with only two hours left, lots of things are going to happen. I fear for no less than four series regulars, and regardless of the number, it's going to be a Blood bath — pun intended.
For now, here are the 6 Qs of this week's Arrow.
1. What is it?
Arrow Season 2, Episode #221, titled 'City of Blood.'
2. Who's in it?
Stephen Amell stars as Oliver Queen/Arrow; Katie Cassidy as Laurel Lance; David Ramsey as John Diggle; Emily Bett Rickards as Felicity Smoak; Colton Haynes as Roy Harper; Manu Bennett as Slade Wilson; Willa Holland as Thea Queen. Guest starring this week are Caity Lotz as Sara; Kevin Alejandro as Sebastian Blood; Colin Salmon as Walter; David Nykl as Anatoly Knyazev; and Cynthia Addai-Robinson as Amanda Waller.
3. Who made it?
'City of Blood' was written by Holly Harold. The episode was directed by Michael Schultz.
4. What is it about? (**spoilers galore**)
'City of Blood' opens with Moira's funeral, juxtaposed with Sebastian Blood (Alejandro) being sworn in as mayor. Ollie (Amell) is not present at the funeral, and Walter (Salmon) and Thea (Holland) take notice.
At the reception following, Felicity (Rickards) and Diggle (Ramsey) pay their respects and Isabel Rochev (Glau) shows up, even though Diggle put her down with .9mm hollow rounds. Blood offers Thea his condolences as well. Team Arrow realizes that they need to find Ollie ASAP.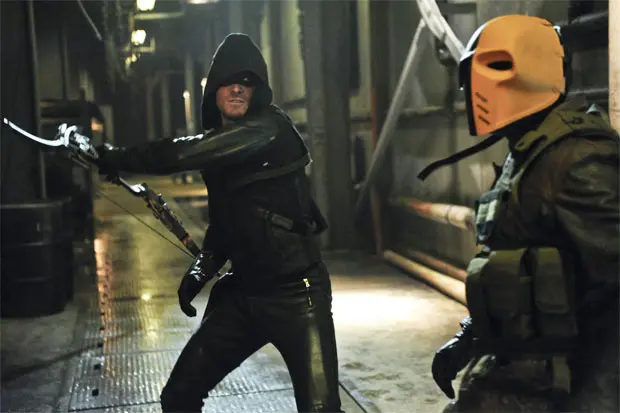 At SCPD, Quentin (Blackthorne) is back on the force, but only as a beat cop. He is heading up the investigation on Slade Wilson — because beat cops do that *sigh*. Laurel (Cassidy) tells Quentin that Blood is bad, and she uses her new sobriety to convince her father to believe her.
Blood is signing his first piece of legislature (seriously, the timing in the episode is crazy off) and Slade calls him on the phone and tells him to do his part.
At the Arrow Cave, Felicity and Diggle realize that they cannot find Ollie at all and Diggle goes to Amanda Waller (Addai-Robinson) and A.R.G.U.S. for help. At A.R.G.U.S., Waller refuses to help and Diggle tells her that Slade Wilson has a Mirakuru-fueled army ready to overrun the city. Waller gives up Ollie's super-secret personal Arrow Cave.
At Verdant, Thea is confronted by Rochev, who informs her that Verdant has been seized as an asset of Queen Consolidated, and now Thea is out of a job, has lost her mother, and was almost killed by her boyfriend.
Laurel visits Blood and leaves a device that allows SCPD's tech guy to hack into the mayoral computer. Back at SCPD, Laurel, Quentin and the Tech Guy discover that Blood wrote a letter of condolences for Moira the morning before she was killed. The Lances' deduce that Slade killed Moira to give Blood the Mayor's seat.
Team Arrow finds Ollie and he says that he will surrender to Slade to save Thea and the city. Felicity and Diggle try to talk him out of it but Ollie won't have it. Ollie goes to Stately Queen Manor and Thea tells him that she is leaving Starling City and Ollie encourages her to run far and fast. He then calls Rochev and tells her to meet him at the pier.
At the pier, Ollie is shot by a tranquilizer dart and when he comes to he's back in the Arrow Cave. Before he can yell at Diggle for stopping him, Laurel appears and admits that she told them to do it, because Blood and Slade are working together and she has the letter as proof. They then have the best, most honest confrontation of this series. This fires up Ollie, who confronts Sebastian at a restaurant and lets him know that Ollie knows everything and he even admits that he is the Arrow.
Diggle kidnaps Blood's bodyguard and Felicity interrogates the man with his own finances. They find out a location. Back at the restaurant, Sebastian tells Ollie that it's too late and that he will own the city!
Thea leaves Stately Queen Manor as Team Arrow suit up to go on the offensive. Laurel wants to go along to help, but Ollie tells her no, and that Team Arrow is a threesome.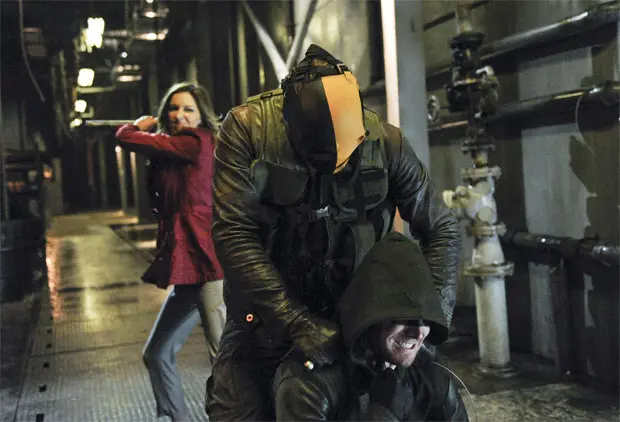 Team Arrow go to the sewer location and find the army. Thea arrives at the train station to leave town, and at SCPD, an Iron Heights escapee is caught and Quentin is processing him.
In the sewers, Ollie has eyes on the army and Diggle is in position to blow the struts, dropping the city on top of the Mirakuru-powered soldiers (didn't we already establish last season and the beginning of this one that city-wide destruction is bad for, you know, the city?), and Felicity is in position as the eyes and ears of the whole op, but then she gets a phone call from STAR Labs.
At nine P.M., Blood dons his skull mask and rallies the Deathstroke-masked troops. The suspect at SCPD breaks free of his cuffs and starts killing cops, finally ending with Quentin in his hands, and at the train station, another masked soldier attacks the cops there as Thea watches.
In the sewers, Arrow is attacked and he is overcome by the Deathstroke soldier, only to have Laurel save the day. She and Arrow try to escape as the entire army chases them. Diggle plans to blow the struts and he is attacked by Rochev — now dressed as Ravager!
Arrow knows that he and Laurel are in trouble, so he fires an arrow at the explosives, causing the corridor to collapse on everyone.
On the island, we are treated to a jumbled mess of a narrative that does absolutely nothing to further the story. Essentially, Ollie, Sara (Lotz), Peter (XXX), and Anatoly (Nykl) board the Japanese sub and learn that the only weapons on the vessel are manually-driven torpedoes. Peter offers to drive the torpedo into the Amazo, as he is dying of radioactive poisoning, and once the weapon is launched it circles back and hits the sub. Ollie and Anatoly are okay, but Sara is in trouble.
5. Any revelations, tie-ins, easter eggs, etc.? (**SPOILER!**)
Mentions of Central City and STAR labs; Rochev appears as Ravager, a Teen Titan character.
6. Will we watch next week?
Yes. Even though Brother Blood and Slade Wilson's assault on the city came very suddenly, it's nice to know that this will soon be wrapped up. The previews clearly showed Malcolm Merlyn (who also gave narration), who looks to be fighting for Starling City, and this whole thing could very well top last season's excellent ending. There are only two episodes left and now that this show has focus, I'm going to be missing it very soon.