'Ant-Man And The Wasp' Review: Twice The Heroes, Twice The Fun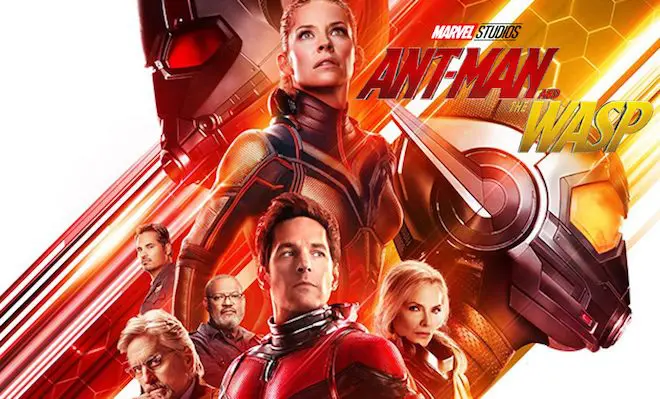 Marvel Studios has done so many things right, and one big feather in their cap has always been the casting of their iconic characters for the big screen. Starting with Robert Downey, Jr. as Tony Stark/Iron Man, the studio has pulled win after win in the casting department. But probably the best casting job has been in the Ant-Man films. Paul Rudd as Scott Lang is as perfect as you can get, but even that is bettered by the casting of Michael Douglas as Hank Pym. Both actors return for Ant-Man and the Wasp, the sequel to 2015's surprise hit.
Rudd's Scott Lang is a wisecracking father and thief, who is motivated in all that he does by the love of his young daughter, Cassie (Abby Ryder Fortson). Douglas' Hank Pym is a man driven by his failures, who toes the line between hero and asshole, and Douglas captures the core essence of one of Marvel Comics most important characters perfectly. The comic book Pym once famously beat on his wife, and is currently melded to Ultron as a villain, so he's a character with many sides, and Douglas does a fine job of portraying that gray — and I'm not talking about the color of his hair. When you add in Evangeline Lilly as Hope Van Dyne, Pym's daughter, the dynamic is wonderfully stretched in all the right directions.
Ant-Man and the Wasp open a few years after the events in Captain America: Civil War, with Scott (Rudd) out of the prison on The Raft and serving his sentence of house arrest for his actions at the airport in Germany. Hank Pym (Douglas) and Hope Van Dyne (Lilly) have all but disappeared, and the government would very much like to find them. Scott is coping with his sentence, and his crew, including Luis (Michael Pena), Kurt (David Dastmalchian) and Dave (Tip "T.I." Harris) have started a security company called X-Cons Security.
Scott has a flashback to the climax of the last Ant-Man film, when he went sub-atomic to stop Yellow Jacket (Corey Stoll), and has a vision of a woman he knows is Janet Van Dyne (Michelle Pfeiffer), Hank's long lost wife and Hope's mother, trapped in the sub-atomic quantum realm. Lang reaches out to the Pyms, who hate him for his stunt in Germany, and that kicks off a wild adventure that sees Scott reconnect with Hank and Hope, all the while battling a new advisory, the Ghost (Hannah John-Kamen), a kickass mercenary who can walk through walls and make herself transparent, who also wants to get to the sub-atomic world to save her life.
Ant-Man and the Wasp follows the now formulaic Marvel Cinematic Universe sequel pattern of creating a villain that has a personal stake in what they are doing. This isn't a baddie who wants to rule the world, or get rich quick, or to even get revenge. Ghost is just trying to live, and her motivations are just, even if her methods aren't. She seeks help from Bill Foster (Laurence Fishburne), who was once Hank Pym's partner in his research of the Pym Particle, and later became the Avenger known as Goliath in the comics. The other forces standing in the way of Lang and the Pyms saving Janet Van Dyne include the FBI, led by Jimmy Woo (Randall Park), and a shady crime boss named Sonny Birch (Walton Goggins).
Outmanned on all fronts, Scott and Hope have to team up as Ant-Man and the Wasp to save Janet, stop the Ghost and Birch, and outsmart Jimmy Woo and the FBI.
Returning director Peyton Reed understands the characters he helped create in 2015, and that is a huge plus. Reed knows how to get laughs from the absurd situations of people and vehicles that can change size with the push of a button, and he proves that he can juggle a film with lots of moving pieces. Ant-Man and the Wasp also has the heady task of being the first film released after Avengers: Infinity War, and on top of all the action, comedy, and drama, he has to explain why Scott was not at the Avengers' side when Thanos attacked Earth, and yet still tie the story to that gut-wrenching film. And he does, in the most shocking and spectacular way. (It's the first of two post-credits stingers — make sure you stay for it.)
The script by Chris McKenna and Eric Sommers (Spider-Man: Homecoming), with Paul Rudd and Andrew Barrer and Gabriel Ferrari, continues to mine laughs with Scott's quips and Luis's (Pena) unique way of retelling stories, this time ramping up the latter in hilarious ways without overdoing it. The addition of Ghost, a male Iron Man villain in the comics, and Jimmy Woo, a legacy Marvel Comics character that dates back to the 1950s, help round out and solidify Ant-Man firmly in his place in Marvel history, cinematic or otherwise.
Ant-Man and the Wasp is the most fun (funnest?) movie of the summer, and a perfect follow up to the shocking end of Infinity War. The casting makes this film — and the franchise — one of the best in the Marvel Studios stable, and while Ant-Man may not be as well known to non-comic fans, Rudd and Douglas have done a stellar job showcasing why the character is worthy to be included with the likes of Thor, Iron Man, and Captain America. Adding Evangeline Lilly as the Wasp is perfect, and its nice to see Lilly in a role that matters again, after all but vanishing at the end of TV's LOST. She's a fine actress and she gets to express that in these films. I can't wait until both Ant-Man and the Wasp become full-fledged Avengers, as these characters are perfect for the team. I mean, IF there's an Avengers team to join. We'll find out next May.
Ant-Man and the Wasp is rated PG-13 and is in theaters on July 6.
TheHDRoom may be paid a small commission for any services or products ordered through select links on this page.