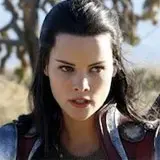 In full disclosure, I am a huge Thor fan. He's my favorite marvel character and one that I've read consistently for over 30 years. With that said, this was my favorite episode of Marvel's Agents of SHIELD, as it felt just like a classic Thor comic from the '70s. Back then, Thor would be away on a mission for Odin and his friends, the Warriors Three, and Sif would take center stage. This was one of those episodes and I really, really enjoyed it. Am I biased this week? Yes. Would you, careful readers, like this episode? I truly think so. In addition to Sif and a whole lot of Asgard love, it also added mystery to the whole Agent's of SHIELD mythos about Coulson and what happened to him. The series as a whole has rebounded well in the last four episodes and has become appointment television again. I hope this is the way it's going to be going forward, because the show is fun and exciting again.
1. What is it?
Agents of SHIELD Season 1, Episode 15, titled 'Yes Men.'
2. Who's in it?
The series regulars, Clark Gregg as Phil Coulson, Ming-Na Wen as Melinda May, Brett Dalton as Agent Ward, Chloe Bennet as Skye, Elizabeth Henstridge as Simmons, and Iain De Caestecker as Fitz. Guest starring this week is Jaimie Alexander as Lady Sif; Maximiliano Hernandez as Jasper Sitwell; Dylan Bruno as Rooster; Robert Belushi as Jimmy; Alicia Lagano as Rosie; and Elena Satine as Lorelei.
3. Who made it?
'Yes Men' was written by Shalisha Francis; the episode was directed by John Terlesky.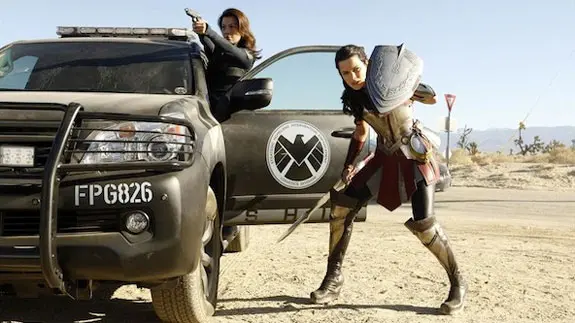 4. What is it about? (**Spoilers Ahead**)
'Yes Men' opens with the continuation of last week's post-SHIELD scene as Lorelei (Satine) and Jimmy (Belushi) stop at a gas station for drinks. A biker named Rooster (Bruno) asks Lorelei why she would marry a guy like Jimmy and she admits that she is using his for the ride. She then sees that Rooster is the leader of the bike gang and leverages that he has more power and respect. Jimmy comes out of the gas station and Rooster is now under Lorelei's spell. Jimmy is jealous and Lorelei takes care of him. She now has her first "army" on earth.
On the Bus, Fitz (De Caestecker) picks up energy signals that match the signals that Dr. Jane Foster first encountered in New Mexico before Thor appeared and Level 7 races to the location with a squad of SHIELD agents in tow. The bifrost deposits Lady Sif (Alexander) on Earth and she quickly apprises Coulson (Gregg) of the situation.
Lorelei is the sister of the Enchantress, and she can control men for her charms. She just spent 600 years locked away, after charming Thor to do bad deeds, and has escaped to Earth. Odin (or is that Loki?) sent Sif down to retrieve the vixen.
Sif meets the rest of Level 7, including Melinda May (Wen), for which there is mutual respect. The Asgardian warrior brought with her a special collar that silences Lorelei, and she asks for SHIELD's help. The team begins to track down Lorelei as Skye (Bennet) is now useful to the team as she can hack and find a money trail.
Rooster takes his new love to Rosie's Desert Oasis and showers her with earthly plunder, like wads of $100 dollar bills. But Lorelei wants gold and has to be convinced that cash is good on Earth. Rooster's wife, Rosie (Lagano) storms into the bar she owns and confronts her husband and his new mistress. Lorelei commands that Rooster kill his wife, which he happily does.
Skye tracks the gang and Lorelei to the bar and SHIELD scrambles to the site, with Lady Sif. Once there, Sif enters the bar and easily cleans house with the mortal bikers. Lorelei escapes and finds Agent Ward (Dalton) out back, who she seduces with her charms and together they ride away on a stolen bike.
Back on the Bus, the team begins to track Ward, but he being a good SHIELD agent (on paper, apparently) has covered his tracks well. May and Sif bond, as May is worried about her secret lover.
Ward and Lorelei end up at Caesar's Palace in Las Vegas and Ward tells Lorelei everything about his feelings. Then they make passionate love.
The team picks up the scent in Vegas but by the time they get there, Ward and Lorelei have vanished. Coulson confronts May, who says that she is fine.
As the team returns to the Bus, Sif is tricked into the cell and locked in by a possessed/charmed Fitz, who also locks up Skye and Simmons (Henstridge) in the med ward. Ward and Lorelei have taken the Bus.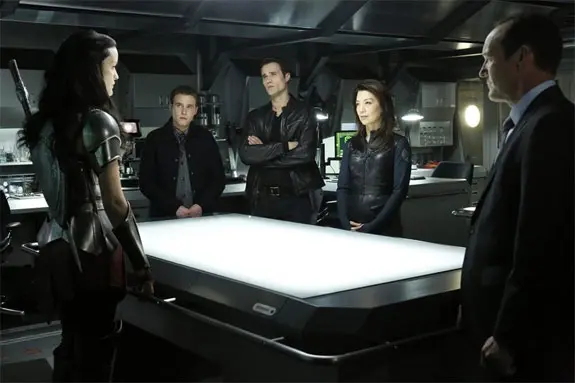 Ward takes the plane into the air and then opens the airlock sucking Sif out into the atmosphere. Coulson and May devise a plan to re-take the Bus. Coulson fools Fitz into thinking that he too is under Lorelei's spell and is able to save Sif, who was just hanging out on top of the plane, and he gets Simmons and Skye free from the med ward.
May confronts Lorelei who tells her all of Ward's secrets, including that May is not his first choice for love. May then goes after Ward in the cockpit while Lorelei goes to the cell to retrieve Sif's sword. With Sif back in the cell, the two Asgardians fight just as May and Ward duke it out. Somewhere here, Coulson knocks out Fitz and Simmons almost clocks her superior with a fire extinguisher.
Sif is able to secure Lorelei with the special collar that silences her, after Fitz had repaired it following shotgun shell damage sustained at the biker bar shootout, and May overcomes Ward, but only after he took a shot at her with the new ICER weapons–which are new versions of the Night-Night guns.
Sif, with Lorelei in shackles and muzzle, thanks Phillip, Son of Coul and his team for his assistance. May and Ward call their affair quits, and Coulson tells Skye what he knows about GH325.
In the post-SHIELD scene, we revisit the conversation between Coulson and Skye and there is a microphone hidden in the air duct. At the other end of the microphone is Melinda May, who picks up a special encrypted telephone and makes a call, telling the person at the other end that "He knows… Coulson knows."
5. Any revelations, tie-ins, easter eggs, etc.?
A ton of Asgard/Thor references, including references to Thor, Odin, Loki, and characters not seen before like Balder the Brave. Sif mentions a menagerie of blue-skinned races from the Marvel universe including the Kree. Agent Sitwell (Hernandez) tells Coulson that Fury is off the grid, which could foretell the events of the upcoming Captain America: The Winter Soldier. The callback to the Asgardians calling Agent Phil Coulson, "Phillip, Son of Coul," first mentioned in 2011's Thor.
6. Will we watch next week?
Next week is a special Marvel Studios recap show that is designed as a refresher to old fans and to bring new fans up to speed before the next two parts of Phase II–Captain America: The Winter Soldier and Guardians of the Galaxy hit theaters. The special promises new footage of both properties as well as the first ever look (non-SDCC) of footage from Avengers: Age of Ultron. So, yes, we will be watching.