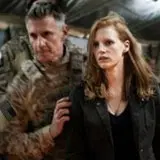 Online retailer Amazon.com has put back their pre-order for Zero Dark Thirty on Blu-ray and DVD combo pack followings its removal shortly after first appearing.
Kathryn Bigelow's Zero Dark Thirty only recently went into wide release after a limited opening back in December. The official Blu-ray announcement is not expected to be made for at least another couple of weeks. I will share the full disc details and release date as soon as they are made public.
Written by Mark Boal, Zero Dark Thirty is the story of Navy S.E.A.L. Team 6 and the CIA Operative who were instrumental in finding and taking down Osama Bin Laden. The film stars Jessica Chastain, Kyle Chandler, Jason Clarke, Reda Kateb, Harold Perrineau, Joel Edgerton and Chris Pratt.
Click here to pre-order Zero Dark Thirty on Blu-ray and DVD combo for $28.69 at Amazon.com, 30% off the $40.99 list price.