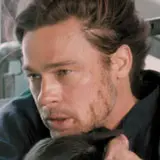 Brad Pitt works hard to save his wife and kids from a zombie apocalypse in a new extended clip from World War Z, ready for you to watch below.
World War Z is an expensive gamble for Paramount Pictures and producer Brad Pitt that some have pegged to cost $200 million or more to produce. At that budget, worldwide ticket sales would need to meet or exceed around $500 million in order for the film to break even. The international flavor of the film and Pitt's appeal will help immensely, but the multimillion dollar question is whether that will be enough for a film that required extensive re-shoots and radically departs from the revered source material.
Pitt has a personal stake in the film as this is the first picture he's both starred in and produced. Just last week Pitt made a cross-country trip, popping up in early screenings from the east coast to west in order to drive up additional buzz for the film. So far, so good as the film is enjoying an 80% approval rating at Rotten Tomatoes just ahead of its release.
The clip below features Pitt's character saving his family from hoards of speedy zombies in the initial hours after the outbreak. He has managed to get them to a roof, but now must safely get them on a helicopter that is their last chance for survival.
World War Z is directed by Marc Forster and also stars Mireille Enos, Abigail Hargrove, James Badge Dale, Matthew Fox and Fana Mokena. It opens in theaters everywhere this Friday, June 21, and will face off against the family friendly Pixar sequel Monsters University.