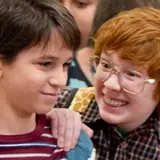 The ass-kicking gals of Sucker Punch got sucker punched at the North American box office this weekend. Delivered by a wimpy kid, no less.
The Fox family sequel Diary of a Wimpy Kid: Rodrick Rules made a surprise number one debut by eclipsing the latest Zack Snyder fantasy spectacular from Warner Brothers by an almost 30% margin, a move no one was expecting prior to Friday. With NCAA March Madness in full swing and the selections continuing to leave ticket buyers nonplussed, sales continued to lag behind previous years at this time by roughly 7%.
Based on the popular book series by Jeff Kinney, Rodrick Rules landed on 3,167 screens for a solid $24.4 million debut a nice per screen average of $7,704. Given the go-ahead to begin production just as the first film opened last spring, the $21 million sequel opened in second place on Friday with $7.3 million behind Warner's Sucker Punch. But Saturday told a different story when business surged close to 40% as families who enjoyed the original showed up en masse for the sequel's matinees. Cinemascore exit polls saw ticket buyers giving the movie an encouraging "A-," while the nation's critics were a little less enamored by it to the tune of a 40% approval rating on Rotten Tomatoes.
The approval rating for Wimpy Kid 2 was absolute admiration compared to what they had to say about the number two film in North America, Warner's fantasy Sucker Punch. The $75 million production, written and directed by Zack Snyder (300, Watchmen) was eviscerated by critics to the tune of a 20% approval rating on RT. Still, that didn't stop Snyder's fan base from turning up to experience the visual director's latest epic on the big screen, a PG-13 tale of a young woman (Emily Browning) who escapes into her own imagination to escape the harsh realities of the mental institution her stepfather has placed her in. I think.
Marketing was aimed squarely at Snyder's fan base and young males under 25, both which helped make his last two films sizable hits. However, the mild $19 million estimated opening on 3,033 for Sucker Punch was well below the 2007 opening for 300 ($70.8 million) and 2009's Watchmen ($55.2 million). Since the film's aggressive marketing campaign didn't reach beyond its targeted demographics, it will be up to them to financially sustain Punch to make it another hit for Snyder. Judging by the box office erosion the movie has experienced since opening Friday, that might be easier said than done. A "B-" Cinemascore grade from opening day viewers doesn't appear to help matters much either.
Last weekend's number one film, the Bradley Cooper thriller Limitless, held up very well in its second weekend as it dropped a limited 19.5% in sales. One of two safe havens in the top ten for adults over 25 from the likes of wimpy kids and armed girls, the Neil Burger-directed film earned an estimated $15.2 million from 2,805 screens to bring its ten-day total to a solid $41.2 million. Should positive word-of-mouth continue, the Relativity Media production could finish between $65-75 million when it exits theaters.
The other adult thriller showing legs this weekend, and without the benefit of a Groupon discounted tickets promotion, was Lionsgate's The Lincoln Lawyer. The Matthew McConaughey legal thriller eased only 17% to earn $11 million from 2,707 screens to bring its ten-day total to $29 million. Like Limitless, word-of-mouth is sustaining the film and if the positive feedback continues, it could finish its run with a respectable $45-50 million at the box office.
Despite the arrival of Wimpy Kid 2, Paramount's hit animated comedy Rango continued to attract viewers in its fourth weekend while becoming the second film of 2011 to break the $100 million mark (Adam Sandler's Just Go With It accomplished that on Friday). Still galloping in 3,645 theaters and off only 35%, Johnny Depp and company earned an estimated $9.5 million to bring its total to $106.3 million. Overseas grosses thus far have reach $74 million.
Sony's sci-fi action epic Battle: Los Angeles continued to lose its box office battle as the film's sales dropped 48% this weekend. The Aaron Eckhart-starrer earned $7.6 million from 3,118 screens in its third round to bring the domestic total to $72.5 million. An $85-90 million final gross is still a possibility. The film has earned $51 million overseas as of last Thursday. Universal's sci-fi comedy Paul eased by 42.5% in its second round to earn $7.5 million from 2,806 screens bringing its ten-day domestic total to the $25 million mark. A $45 million domestic gross is likely for the $40 million production.
Warner's Red Riding Hood was off 39% from last weekend to earn $4.34 million from 2,715 screens in its third weekend to land in eighth place. The total for the Amanda Seyfried horror film now stands at $32.4 million. Matt Damon's fantasy romance The Adjustment Bureau romanced 26% less people in its fourth weekend to earn an estimated $4.2 million on 2,282 screens to land in ninth place. To date, the Universal release has grossed $54.8 million and should see a final domestic tally near the $65 million mark. Rounding out the top ten this weekend was Disney's dud Mars Needs Moms which didn't take advantage of last weekend's slight drop this weekend. Crumbling 60%, the film earned a measly $2.19 million from 2,170 screens to bring its three-week total to a dire $19.1 million.
| A quartet of new releases arrives next weekend to dethrone Rodrick Rules as the box office champ. Universal releases the animated/live-action comedy Hop, FilmDistrict will debut the horror film Insidious, Summit Entertainment will bow the sci-fi thriller Source Code, while the Weinstein Company will unleash the unnecessarily censored version of The King's Speech on 1,000 screens. Sigh.
– Shawn Fitzgerald