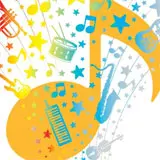 Wii Music is on sale today only at Amazon.com as the featured Gold Box Deal of the Day.
Priced normally at $44.96, Amazon is selling Wii Music for $29.99 or 40% off the $49.99 list price. The one day sale has pushed Wii Music to the top of Amazon's hourly videogame bestsellers list.
Additionally, you can get Wii Music for a mere $14.98 with the purchase of a Nintendo Wii console at Amazon.
Click here to grab Wii Music for $29.99 from Amazon.com.
From that page you can check out Amazon's Lightning Deals for today that will also be centered around videogames. At the time of this article Rayman Raving Rabbids TV Party for Wii is being sold for $29.98 or 40% off list price.