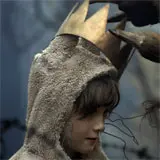 Warner Brothers was expecting Spike Jonze's Where the Wild Things Are to gobble up around $25 million its opening weekend of release. Instead, the film based on Maurice Sendak's 1963 children's book brought in an October live-action PG-13 record breaking $11.9 million its first day that could turn into $40 million plus through Sunday.
Law Abiding Citizen with Jamie Foxx and Gerard Butler also fared well with $7.6 million its opening day, a record for distributor Overture Films. Third place went to Paranormal Activity in its first wide Friday of release with $6.7 million.
Fourth place went to Couples Retreat in its second weekend of release with $5.8 million. The last newcomer, The Stepfather, terrorized its way to $4.3 million and fifth place.
Check back Sunday morning for the top 10 weekend box office estimates, Monday evening for the final weekend box office numbers and the results of our Weekend Box Office Prophet game, and on Tuesday for the game's next round.