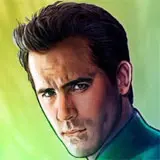 Comic artist Jason Palmer took to Deviant Art this past week and offered up a piece of concept art featuring Ryan Reynolds in full Green Lantern regalia.
"I did some work for the upcoming Green Lantern movie," wrote Jason in a caption to the photo. "I can't show the submitted art, but this is some extra art I did as a cover to the submission pdf, but was strangely not included in the submission. Oh well. For this art, I didn't use costume designs or Reynolds ref that was provided by WB, so I can share it with you."
The Green Lantern's costume is fairly simplistic and iconic in the comic books. Jason's concept art seen below is spot on with the "no mask" look, likely a good indication of the official artwork he submitted to the studio. We'll have to wait for official concept art, production or spy photos before determining whether the costume maintains this look and Ryan dons a mask or not.