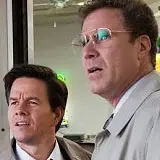 The Other Guys starring Will Ferrell and Mark Wahlberg held strong through the weekend en-route to nearly doubling the box office tally of its closest competition, former top spot holder Inception. As a result, The Prophet fell hard in the last round of our Weekend Box Office Prophet Game while the players easily won 4-1 including a perfect prediction for Inception and near-perfect on two others.
Top finisher moviebob, who missed the five eligible films to predict by an average of less than $1 million each, takes home the grand prize.
The complete top 10 weekend box office results for August 6 – August 8, 2010 are as follows.
1. The Other Guys: $35.5m
2. Inception: $18.5m
3. Step Up 3D: $15.8m
4. Salt: $10.9m
5. Dinner For Schmucks: $10.4m
6. Despicable Me: $9.3m
7. Cats and Dogs: The Revenge of Kitty Galore: $6.9m
8. Charlie St. Cloud: $4.7m
9. Toy Story 3: $3.1m
10. The Kids Are All Right: $2.6m
The next round of the Weekend Box Office Prophet Game features a trio of newcomers: Eat Pray Love with Julia Roberts, The Expendables with Sylvester Stallone and friends, and Scott Pilgrim vs. The World. Look for it within the next 24 hours.