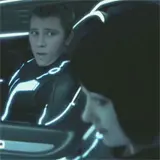 Part of the big Tron Legacy IMAX 3D presentation a couple nights ago was a sequence debuting the new Light Runner vehicle.
In the sequence, Sam Flynn (Garrett Hedlund) is a passenger in the sleek four-wheeler of Quorra (Olivia Wilde) who has just rescued the confused newcomer to the digital world. The Light Runner is capable of driving on mountainous terrain other vehicles cannot, thus they're safe from danger speeding through rock tunnels and tight bumpy curves.
Watch the clip below and look for Tron Legacy in theaters on December 17.