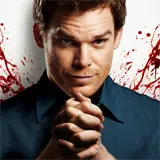 Dexter returned to cable last night as Showtime debuted the premiere episode from Season 6. Not long after the episode, titled 'Those Kinds of Things,' showed up on Showtime's video channel for anyone with an Internet connection to stream and watch right now without a subscription to the channel.
It was hammer time, both literally figuratively, for Dexter Morgan as he attended his 20th high school reunion with sights set on determining if a former classmate was guilty of killing his wife. If proven guilty after blood is painstakingly collected, Dexter will have to find a way to take him out before the reunion festivities conclude.
In a great twist, Dexter discovers he's gone from anonymous to popular thanks to being in the media after the murder of his wife and not having a receding hairline or beer gut. Suddenly everyone wants to talk to him, and the hottest classmate wants to get him alone for a quick one-on-one lesson in a dark classroom.
Even when female relations are the furthest thing on his mind, Dexter Morgan can get lucky.
There's much more to the Dexter: Season 6 premiere, but you'll have to watch it below to find out. I'll have more on the return of Dexter to share throughout the week.