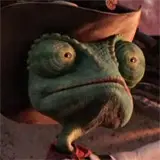 Paramount is hoping the combination of animation and Johnny Depp proves a winning formula when Gore Verbinski's Rango hits theaters this Friday, March 4.
To help drum up interest in the tale of a chameleon forced to live out his dream of acting the part of a confident hero, the studio has released a three-minute clip featuring Rango in his second confrontation with a determined hawk who wants lizard for lunch. Like much of the fairly predictable film you can probably guess who comes out on top.
Joining Depp in Rango's impressive voice cast are Isla Fisher, Abigail Breslin, Ray Winstone, Bill Nighy, Harry Dean Stanton, Stephen Root, Ned Beatty, Alfred Molina, and Beth Grant. Depp previously worked with Verbinski on Pirates of the Caribbean.