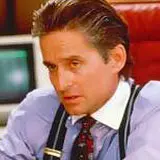 Michael Douglas earned a Best Oscar award playing Gordon Gekko in Oliver Stone's 1987 hit Wall Street. Now more than 20 years later he's being given a chance to shoot for a repeat.
Fox spokesman Gregg Brilliant confirmed today that Wall Street 2 is back on again after a false start with the moniker "Money Never Sleeps" not too long ago. Oliver Stone is already attached to direct again and Michael Douglas will reprise nefarious well-dressed villain Gordon Gekko.
Per the LA Times, Shia LaBeouf is in negotiations to play a young protege to Gekko similar to the role Charlie Sheen played in the original.
Of the plot Brilliant added, "We need to keep the story line under wraps, but it's literally ripped from today's headlines." Corporate greed, illegal bank activity, running the country into the ground; sounds like the perfect setting for a Wall Street sequel.
Allan Loeb, scribe of 21, has penned the screenplay. Production is scheduled to begin sometime this summer.