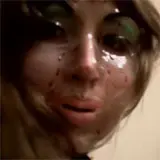 Update: Magnolia Home Entertainment has formally announced a December 4, 2012 release date for V/H/S and passed along the official cover art and disc details the same time. Bonus features on the disc will include Deleted Scenes, Visual Effects, Behind the Scenes, AXS TV: A Look at V/H/S, and Trailers. Pre-order information is below.
Original article (September 20, 2012): V/H/S starring Lane Hughes and Calvin Reeder has been called a horror mash-up of Creepshow and The Blair Witch Project. Like Creepshow it is split into five short films. Like Blair Witch it is presented from the actors' point-of-view.
Though V/H/S is presented in 1.33:1 video given its plot of thieves playing back old VHS tapes and discovering horrific stories on them, it will be getting a Blu-ray treatment on December 4, 2012 according to a new listing at Amazon.com. Magnolia will be handling the home video distribution after selling an on demand versions beginning August 31 ahead of its October 5 theatrical debut.
That's all there is to report about V/H/S on Blu-ray at this time. The pre-order link and a creepy trailer are below.
Click here to pre-order V/H/S on Blu-ray for $20.99 at Amazon.com, 30% off the $29.98 list price.