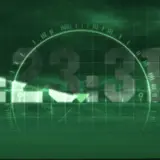 You would think someone sank Universal's Battleship with the lack of publicity and information that's been released for the big epic film due in theaters next May. The film was a no-show at Comic-Con which seemed like the perfect place to debut the first footage about a movie based on a board game that involves battleships, alien invaders, and a star from HBO's True Blood.
As Comic-Con ends, the Battleship PR machine has awoken. The official website for the film is now live and features a sonar that is tracking a countdown. If I'm reading it right, a big reveal is coming this Wednesday, July 27 at 12pm EST/9am PST.
Your guess is as good as mine as to what the reveal might be. I'm hoping for at minimum some sort of teaser trailer so we can get a first look at this estimated $200 million budget spectacle. A trailer would time nicely attached to Cowboys & Aliens this Friday.
Battleship is directed by action veteran Peter Berg and stars Liam Neeson, Alexander Skarsgard, Brooklyn Decker, Taylor Kitsch, Josh Pence and Rihanna. The invasion begins on May 18, 2012.
View the Battleship official website.