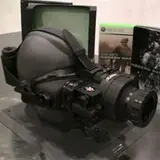 Infinity Ward has revealed the amazing Modern Warfare 2: Prestige Edition with a useful, though questionably practical, packed-in surprise.
Infinity Ward community manager Robert Bowling took to YouTube to unveil the upcoming set by unboxing it for all to see. What did he find in the box? Aside from the game he plucked out a working set of night vision goggles that have to be seen to be believed.
Also included is a steel case, art book, custom molded head, and voucher to download the original Call of Duty.
The Modern Warfare 2: Prestige Edition set for Xbox 360, PS3 and the PC is due in stores on November 10 alongside the standard and collector's edition versions.
Any guesses on what this puppy will cost? Early rumors point towards a $170 price tag. Amazon.com has yet to begin taking pre-orders for the Prestige Edition, but once pre-orders do appear I'll be sure to pass along the information.