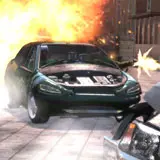 Vin Diesel-fueled Wheelman is coming to Xbox 360 and Playstation 3 on March 24 as originally planned but it will no longer be published by Midway.
Former publisher Midway has handed over publishing duties for North America, South America, Australia, New Zealand, France, Germany, Austria, Ireland and the United Kingdom to Ubisoft, though will distribute the game in Europe.
Midway will still retain rights to the game and any future installments should they be warranted. This agreement is more of a partnership rather than Midway handing over Wheelman in-full to Ubisoft and wiping their hands of it.
Ubisoft has also confirmed a playable demo for Wheelman will be coming to PS3 and Xbox 360 prior to the game's release and promises improved gameplay mechanics and the ultimate cinematic driving experience.
We'll pass along those details as soon as we receive them.