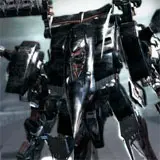 Ubisoft is hoping number 13 isn't unlucky for the Armored Core franchise.
The publisher has announced the thirteenth game in the fabled mech series, Armored Core for Answer, is now available for Playstation 3 and Xbox 360 consoles.
Ubisoft describes Armored Core for Answer as follows: In the distant future, massive urban development and pollution have critically damaged the planet. There is widespread fear that the end of the world is approaching. The League of Corporations, a military superpower, controls the planet's infrastructure and has forced most of the world's population to live in huge aerial communities, called Cradles, to avoid the contamination. The ORCA, a rebel resistance still residing on the surface of the polluted planet, has amassed a formidable arsenal and is mobilizing an attack on The League's bases to put an end to its iron grip on the planet. As a mercenary armed with cutting-edge military robot technology, choose your side and defeat the other factions by harnessing the power of the deadliest and most gigantic weapons ever created by mankind.
Armored Core for Answer on either consoles carries an SRP of $59.99.