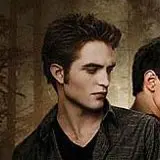 Turns out MTV won't be debuting the first The Twilight Saga: New Moon clip during the MTV Movie Awards this summer. What they've got looks to be more substantial.
Today MTV confirmed they will debut the first trailer for New Moon at 9PM EST during the Awards show. The triumvirate of stars Robert Pattinson, Kristen Stewart and Taylor Lautner will personally present the trailer to the audience and us at home.
At 10:45 EST, after the trailer has aired, a high resolution version will appear online. You can bet I'll pass that along as soon as it hits the web.
Twilight news has been coming fast and furious this week with three new set photos and spy pics of Kristen Stewart and a shirtless Robert Pattinson filming a climatic scene.