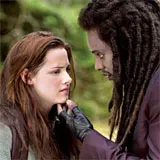 Twilight New Moon is poised for a monstrous box office opening on November 20. How long it stays hot after the opening weekend surge is debatable, but the hardcore fans are already snatching up opening midnight screenings to ensure that first weekend is huge.
Since Fandango began selling select Twilight showing tickets on August 31 and MovieTickets on September 10, a total of 63 showings have completely sold out. A total of over 30,000 showtimes are being offered between the two sites.
The only other film with early ticket sale availability beyond two months out, James Cameron's Avatar, has yet to sell out a showing. New Moon has a one month head start and a built in fan base whereas Avatar, despite riding Cameron's name, is a completely new story.