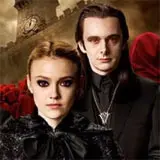 The Twilight Saga: New Moon is not expected to challenge the big all-time box office records but it has already stirred up boffo business before even hitting the silver screen.
Fandango has announced The Twilight Saga: New Moon has become the top selling advance ticket sales title of all time. To obtain the crown it beat out Star Wars: Episode III: Revenge of the Sith, Harry Potter and the Half-Blood Prince, The Dark Knight and the original Twilight.
Stars Kristen Stewart, Robert Pattinson, Taylor Lautner and to a lesser degree Dakota Fanning have drawn in approximately 86% of all weekly ticket sales at Fandango, a number expected to climb this week as the film approaches its midnight opening. MovieTickets.com is reporting over 94% of its ticket sales are for New Moon and over 2100 sellouts for the midnight screening. Fandango also says "thousands" of showings are sold out.
The scary part is theater owners have caught on to the Twilight frenzy and are continually adding new screens which is fueling ticket sales even further.
You can try to predict how much business The Twilight Saga: New Moon will do this weekend in our Box Office Prophet game which also reveals how much we think it will make.