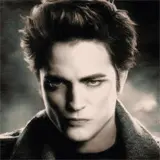 There's a new image from The Twilight Saga: Breaking Dawn in the wild and was meant to remain in print. It didn't take long for someone to scan it and share online.
Entertainment Weekly is touting the new image which first appeared exclusively in their latest print edition. It features Robert Pattinson and Kristen Stewart during the evening of Bella and Edward's wedding in the process of consummating their love.
The image is an early glimpse of the duo as newlyweds and a companion shot to imagery of Bella's outstretched hand amongst a bed with scattered feathers that director Bill Condon tweeted during Thanksgiving.
With The Twilight Saga: Breaking Dawn well into its third month of production, more images should be making their way online in the coming weeks and months.
The Twilight Saga: Breaking Dawn Part 1 hits theaters on November 18. Part 2 is scheduled for November 2012.
Check out the image right here.