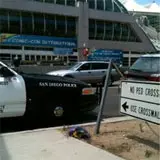 A The Twilight Saga: Breaking Dawn Part 2 fan who showed up days early to assure herself a seat at the film's San Diego Comic-Con International panel was tragically killed earlier today.
The woman, 53-year old Gisela Gagliardi as identified by friends online, was apparently in a crosswalk at around 9:20am. With a red light, she tried to scurry across Harbor Drive to get back into the long Twilight line at the San Diego Convention Center.
One car is reported to have seen her and slow down, but a second car did not. She tried to stop before reaching the car's path, but her momentum carried her into it where she was struck and suffered fatal injuries.
Other fans in the Breaking Dawn line said Gagliardi had been there since Sunday to score a spot in Hall H for the Twilight finale panel. She was a big Twilight fan and, amongst other Comic-Con related pictures from the past several years, had been photographed alongside star Robert Pattinson back in 2010.
Summit Entertainment and Lionsgate issued a statement this evening sending their condolences. Gagliardi will be remembered at the Breaking Dawn panel after fans went online and called for a moment of silence. "She will be respectfully remembered this Thursday in Hall H," the short statement concluded
The San Diego Convention Center has taken a lot of heat over the past several years as interest in Comic-Con has swelled and attendance consistently maxes out. Some have called for a move to a larger venue like the Los Angeles Convention Center. This accident, though it happened to a fan of one of the most publicized panels in Twilight, happened outside the convention center and was not a reflection of overcrowding. The accident may make organizers reconsider the process of admittance to popular panels to avoid the long lines that build days in advance.
Source: UT San Diego