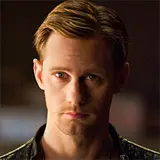 Last night on HBO's True Blood, the witch coven and their leader, Marne, were confronted by a vampire, Eric, and given an ultimatum to never convene again. It didn't take long for the situation to spiral out of control and Eric ended up getting the short end of the stick thanks in part to Lafayette and Tara.
Eric's new predicament is something readers of the Sookie Stackhouse books have been waiting for since the television series began. Showrunner Alan Ball has always known this which is why he made sure to include it given his other radical changes to the narrative i.e. Bill's new position. He also made sure to use its arrival as a cliffhanger for the next episode.
Below is a preview spot for episode 39 which has been titled 'If You Love Me, Why Am I Dyin'?' The title refers to the fate of Jason Stackhouse who has been recruited by the were-panthers to help father a newborn and keep the bloodline alive. Unfortunately for him, there's a catch and it's a painful one.
True Blood season 4 episode 39 'If You Love Me, Why Am I Dyin'?' will debut this upcoming Sunday, June 10 at 9pm EST/PST. It marks the 25 percent completion point of the new season.