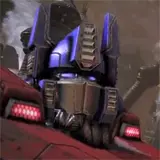 Transformers: Fall of Cybertron makes its way into stores today, continuing the tradition of excellence set by its 2010 predecessor War for Cybertron.
Developer High Moon Studios and publisher Activision have put togethe a nearly two-minute launch trailer for Transformers: Fall of Cybertron that you can digest below. It's chock full of recognizable Autobots and Decepticons, and course several appearance by Grimlock the Dinobot. More than anything, its full of action and some serious metallic eye candy.
The premise of Fall of Cybertron is that the Cybertronian society is crumbling due to the war between the Autobots and Decepticons. Facing defeat, the Autobots hatch a plan to board an Ark and head for a distant planet – our earth – to escape Cybertron before its destruction.
Transformers: Fall of Cybertron is now available for Xbox 360 and Playstation 3.
Click here to purchase Transformers: Fall of Cybertron for a discounted price at Amazon.com.