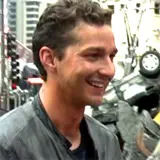 Entertainment Tonight has begun promoting an on-set Transformers: Dark of the Moon (aka Transformers 3) feature from the Chicago sets that will air this Thursday.
In the promo for the feature below you can see they wrangled up comments from at least Shia LaBeouf, Josh Duhamel, Tyrese Gibson, Patrick Dempsey and Rosie Huntington-Whiteley. Michael Bay is sure to put his two cents in for blowing up several Chicago streets as well.
ET is expected to share more goodies before the feature runs and I'll pass them along if they do.