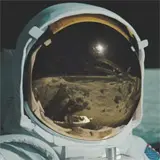 The first trailer for Michael Bay's Transformers: Dark of the Moon has been released and it fits the earlier leaked description like a glove.
The first part of the trailer celebrates the landing of Apollo 11 on the moon. Then when communications go dark as the astronauts are on the dark side of the moon, they embark on a 21-minute mission to explore a crashed alien spacecraft. Within that craft is at least one dormant Transformer robot.
I'll be back a little later with some more analysis, high-res screen grabs and speculation on who that bearded Transformer might be. In the meantime, enjoy the Transformers: Dark of the Moon announce trailer below.
> >