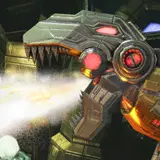 Michael Bay's Transformers 4 will in fact feature the Dinobots as has been heavily rumored via set leaks over the past couple weeks.
The confirmation comes from an interview with producer Lorenzo di Bonaventura who told the Beijing News that Dinobots are arriving. "I can not disclose the specifics, but you can be sure that the arrival of the Dinobots will give the audience a lot to be excited about," he said. "The world's coolest, most exciting cars will appear in the film, including Chinese vehicles, so whether you are a car enthusiast or not, it will be a feast for the eyes."
Rumors of the Dinobots making their live-action debut in Transformers 4 date back to before production began. As on location production moved to Chicago, a crew hat featuring the film's logo with claw marks through it offered the first hint of confirmation. Then a leaked call sheet clearly listed the Dinobots as characters.
In Bay's Transformers universe, the Autobots and Decepticons are able to scan Earth vehicles and change to them instantaneously for their alt forms. Dinosaurs aren't man-made metallic objects so it remains to be seen how a group of Autobots will be modeled after long extinct dinosaurs, and why. If High Moon Studios was able to come up with a logical reason for the Dinobots creation in the solid video game Fall of Cybertron, I'm sure Transformers 4 screenwriter Ehren Kruger was able to as well.
The Dinobots are a team of Autobots who resemble gigantic robotic dinosaurs with hearts far larger than their brains. The group and its extremely limited vocabulary consists of leader Grimlock (T-Rex), Sludge (Apatosaurus), Slag (Triceratops), Swoop (Pteranodon) and Snarl (Stegasaurus).
Transformers 4 swoops into theaters on June 27, 2014. The first footage will probably be released during the Super Bowl as was the case with the past two films.
Source: TFormers.com