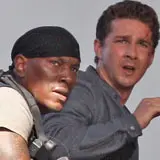 The tilting building Transformers 3 set spotted a few weeks ago is finally being put to use and Just Jared has the images scoop while MSN UK has a minute's worth of video shot from roughly the same vantage point.
The images show Shia LaBeouf, Megan Fox's "look hot" replacement Rosie Huntington-Whitely, and soldier Tyrese Gibson inside the building. Spoiler Alert: Apparently the scene involves a Decepticon trapping the humans in the building and then tipping it over. The set on a gimble represents an entire floor of the doomed structure and is just the kind of crazy stunt director Michael Bay loves to dream up.
MSN UK's video zooms out so you can see most of the impressive set and how high it sits off the ground. Watch that video here.