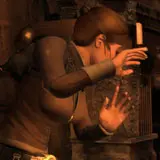 On top of yesterday's screenshot blowout, we have more Tomb Raider: Underworld goodies for you today in the form of a brand new video.
This time around, Lara finds herself on a racing bike in the Mexican Jungle. At night. Not the safest idea.
After biking by some bad guys, Lara is tasked with going into the temple's large corridors to solve puzzles so she can get by on the bike.
There's a lot of intrusive cut-scenes mixed in with the action that makes us a little nervous. We'll wait until we get our hands on the game before passing judgment.
Be on the lookout for Tomb Raider: Underworld on PS3, Xbox 360 and Wii in stores next month.