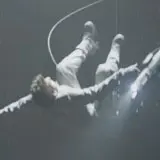 The first trailer for Joseph Kosinski's Oblivion is full of aesthetically pleasing futuristic designs on what's left of Earth after years of a deadly war with an alien race.
If there's only one man left to help clean up the mess as a drone repairmen, it seems unlikely this average Joe would be Tom Cruise. Even if Cruise doesn't look the part of a repairman, he appears to have much more to do in Oblivion than pilot around his neat little craft and fix drones.
There appears to be more going under the surface of Oblivion than Cruise's character being taken prisoner by a ragtag band of survivors lead by Morgan Freeman. The trailer hints at Cruise's character connecting with his past before the war in order to help save the memory of Earth as it once was. Part of this connection might have to do with a woman he rescues from certain death, played by Olga Kurylenko.
As an aside, Cruise looks ripped right out of the Mass Effect video games while running around with a futuristic rifle. He does this several times in the trailer.
Oblivion brings with it a strong pedigree when it opens in theaters everywhere on April 12, 2013. Writing credits include William Monahan (Kingdom of Heaven, The Departed, Karl Gajdusek (Dead Like Me) and Michael Arndt (Toy Story 3, Star Wars Episode VII). Director and co-writer Joseph Kosinski directed Tron Legacy for Disney. With Oblivion at Universal, he should be on a much longer leash to tell a sci-fi story with more substance and less flash.