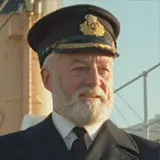 The first trailer for James Cameron's Titanic in 3D sailed onto the Internet today in glorious 2D. If the text were removed, you'd never know the difference between this trailer and one created for the original 2D version years ago.
The irony of Titanic returning to theaters is James Cameron will be battling against himself for the all-time domestic and international box office record. In North America, Avatar is currently in first with $760.5 million while Titanic sits at $600.1 million. Including international business, the spread is wider with Avatar at $2.78 billion and Titanic at $1.84 billion.
Watch the new Titanic in 3D trailer below and check out the new one-sheet theatrical poster, also released today. The film opens in theaters on April 6, 2012, and should make its way to Blu-ray 3D later in the year.