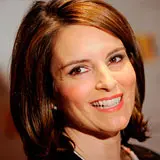 Upcoming Golden Globes co-host Tina Tey is in negotiations to join Disney's The Muppets sequel according to The Hollywood Reporter.
If signed, Fey would join previously cast Ricky Gervais and Ty Burrell to headline the human cast. A full contingent of Muppet characters will also return, though details about whether a new member will join their ranks or not is being kept under wraps.
THR also reported that Burrell's character is a "lazy Interpol inspector" and Fey would plays a "Russian gulag prison guard." With the film expected to be set primarily in Europe and pointing toward a caper of some sort based on Fey and Burrell's characters, the direction echoes that of the 1981 film The Great Muper Caper which saw the Muppets head to Britain as reporters and get entangled with jewel thieves.
The Muppets director James Bobin is back to steer the sequel, and also co-wrote the screenplay with Nicholas Stoller. None of the human cast from the 2011 film, including Jason Segel, are expected to return.
Production on The Muppets sequel is expected to get underway this year.
Source: THR