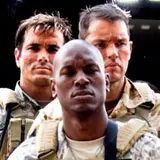 This morning I have three images to share from Transformers: Revenge of the Fallen. One is entirely new and the other two are being shown in high resolution for the first time.
The new image features the multinational NEST team with Josh Duhamel and Tyrese Gibson who work in conjunction with the Autobots to quietly eliminate Decepticon threats.
The other two images were first seen at USAToday.com. They feature Jetfire, Shia LaBeouf, Megan Fox, John Turturro and Ramon Rodriguez in the Egyptian desert, and Optimus Prime striking a heroic pose next to the Sphinx in the shadows of the Pyramids at Giza.
Click any of the images to view the high resolution version. Transformers: Revenge of the Fallen is in theaters and IMAX beginning tomorrow, June 24.