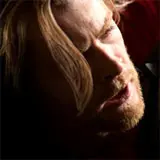 One of the things Thor actor Chris Hemsworth had to figure out for his role was how to wield (and hopefully throw) the mighty Mjolnir hammer.
In an interview published in Empire Magazine, Hemsworth discussed how a new style was developed to fight with Mjolnir. "I'm an old hand with a hammer, Hemsworth said. I worked as a builder for a couple of years in Australia. But the hammer fighting is cool. We experimented with different styles, but none of them really worked. In the end, we developed our own style actually built around boxing. You know how Mike Tyson moves? Stance low to the ground, with big powerful hip movements." For kicks, check out the Tyson knockout compilation below (sans ear munching).
Also new in the world of Marvel's Thor production is this set pic taken from Galisteo, New Mexico. This looks like the type of small town built to be destroyed in an epic fight sequence. Maybe Thor will "bring the rain" here.
Source: Marvel Movies