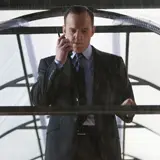 Thor hammered the North American box office this past weekend, easily beating last week's champ Fast Five for the number one spot. The top ten did rise a healthy 7% over last weekend but lagged by 10% at this time one year ago, which saw the $128 million debut of Iron Man 2.
After debuting two weeks before overseas to earn a mighty $133 million so far, Thor finally arrived in the United States and Canada to kick off the first of four big comic book movies coming to theaters this summer. Debuting on a wide 3,955 screen count of which three quarters were either Digital 3D or IMAX 3D, the God of Thunder commanded a solid $66 million for its debut and a mighty per-screen average of $16,688. Directed by Kenneth Branagh (Henry V, Hamlet) and starring Chris Hemsworth, Natalie Portman and Anthony Hopkins, the big-screen adaptation of the nearly 50-year old Marvel superhero tells the origin tale of a disgraced deity from the planet of Asgard who is banished to Earth by his father after reigniting an ancient war.
Thor was well received by the critics who bestowed it with a 78% approval rating from Rotten Tomatoes. While the rating was not quite as high as the 94% given to 2008's Iron Man, the approval rating was higher than other recent Marvel efforts Iron Man 2 (74%), The Incredible Hulk (66%) and X-Men Origins: Wolverine (37%). Thor earned a "B+" from ticket buyers on Cinemascore with the under-18 crowd giving it an "A" rating.
Financially, Thor opened on the lower end of the Marvel Studio releases below the two Iron Man flicks ($98 million and $128 million, respectively) and Wolverine ($85 million), but higher than The Incredible Hulk ($55 million). This could be attributed to two factors: while having a following, Thor isn't the best-known of the Marvel superheroes to the general public. Factor two is most likely the continuing success of Fast Five which is also aimed at the under-25 male crowd. Thor opened to $25.7 million (of which $3.25 million came from midnight screenings) on Friday, eased by a slight 9% to $23.5 million on Saturday and is looking at an estimated $16.6 million on Sunday. The small drops indicate that viewers like what they see, and could help the movie hang tough over the next few weeks to give Marvel another winner prior to the July debut of their next flick, Captain America: The First Avenger.
Following its record-setting $86.3 million opening, Universal's Fast Five eased up on its money-making pedal by 62% to an estimated $32.5 million from 3,662 screens bringing its ten-day total to a great $140 million. In comparison, 2009's Fast and Furious dropped by practically the same percentage in its sophomore round to bring in $27.2 million en route to a $155 million final gross. Fast Five should cruise by that within a week's time. Depending on how the hit action flick weathers ticket buyer erosion, this latest chapter in the popular franchise could finish between $180-190 million domestically.
Three other films opened this weekend alongside the God of Thunder. The African-American comedy Jumping the Broom debuted on 2,035 screens for a decent $13.7 million and a solid per-screen average of $6.732. Reviews were mixed on the Angela Bassett comedy with the film earning a 52% approval rating on Rotten Tomatoes. The $6 million production from Sony was one of two wide releases this weekend debuting as counter-programming to the latest big budget special effects extravaganza. It should also prove to be something else in another regard by the end of next weekend: profitable.
The second wide counter-programming release was Warner's romantic comedy, the aptly titled Something Borrowed. The Kate Hudson/John Krasinski flick, based on a best-selling novel, debuted on 2,904 screens for a $13.1 million opening and a mild per-screen average of $4,530. The Rotten Tomatoes approval rating was a whopping 17%, with many critics citing the film's population of unpleasant characters and insufferable amount of rom-com movie clichés.
The third release of the weekend was one on a much smaller scale, the Jodie Foster-directed drama The Beaver which marks Mel Gibson's return to cinemas following the media circus involving him and his former girlfriend. Critics gave the film some love with a 65% Rotten Tomatoes approval rating, but the audiences that turned out this weekend in the 22 theaters showing the Summit Entertainment release seemed to show disinterest more than anything else. For its first weekend in limited release, The Beaver earned $104,000 and a so-so per-screen average of $4,727. The Beaver goes wide on May 20th.
Filling out the top 10 are leftovers from a Spring movie season Hollywood would like to forget. Fox's 3D animated comedy Rio withstood the onslaught of Thor to earn $8.2 million this weekend (off 44% from last weekend) to land in fifth place while bringing its domestic total to the $115 million mark. A $130 million final gross is still possible. Fox also claimed sixth place with its drama Water for Elephants with Robert Pattinson which added $5.6 million to its total that now stands at $41.6 million. The $50 million mark should be reached by the end of its run.
Tyler Perry's latest film, Madea's Big Happy Family, dropped another 60% to land in seventh place earning $3.9 million this weekend bringing its three-week total to the $47 million mark. Disney's bomb Prom fell by half to land in eighth place to earn $2.4 million from 2,730 screens to bring its ten-day total to a dismal $7.8 million. I guess we can now forget about a graduation day movie from the Mouse House.
Ninth place belonged to the durable Soul Surfer which eased a decent 37% in sales to add $2.1 million in leftover sales and raise its cumulative total to $36.6 million. Rounding out the top ten was the latest dud from your friends at the Weinstein Company, Hoodwinked Too! The 3D cartoon dropped by 54% to procure tenth place in its second weekend in earning $1.8 million. The ten-day total for Hoodwinked Too! is only $6.7 million.
Next weekend the Mighty Thor will face off against a group of Bridesmaids from Universal and a Priest from Screen Gems. Neither look to topple the Paramount/Marvel flick, but you never know.
– Shawn Fitzgerald