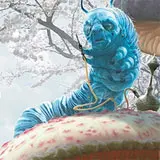 The marketing team behind Disney and Tim Burton's Alice in Wonderland dished out the third and likely final (for now) Alice in Wonderland poster via Facebook last night.
This poster features an image leaked a week prior from a magazine scan that features Johnny Depp as the Mad Hatter with a first look at the Caterpillar to be voiced by Alan Rickman. When combined with previously released posters via Facebook that include the White Rabbit, Alice, Tweedledee and Tweedledum, the Cheshire Cat, the Red Queen and the White Queen, you get the full banner image seen below (click to enlarge).
Alice in Wonderland arrives in theaters in traditional and 3D flavors on March 5, 2010. Additional cast includes Mia Wasikowska, Anne Hathaway, Helena Bonham Carter, Michael Sheen and Stephen Fry.