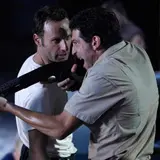 AMC's The Walking Dead continued to look very much alive by setting a series ratings high with its season one finale, 'TS-19.'
The sixth episode drew approximately 6 million viewers Sunday evening, topping the 5.6 million series best set by the previous episode. Of the 6 million viewers, 4 million fell into the coveted adults 18-49 category that advertisers love to wrap their buys around.
The second season of The Walking Dead has already been given a green light by AMC and is expected to begin production this spring. Once again it will likely be based on Robert Kirkman's comic series with creative liberty and adjustments being made by showrunner Frank Darabont and his writers.
Click here to pre-order The Walking Dead: Season One on Blu-ray for $34.99 at Amazon.com.