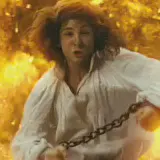 The first trailer for Summit Entertainment's The Three Musketeers surfaced today and brings it the promise of action, adventure, crazy stunts, and gratuitous 3D moments.
Yes, The Three Musketeers is being offered in 3D and Summit seems quite adamant about ensuring everyone knows it is. There's a few "in your face" 3D staged shots in the trailer that are hopefully kept at a minimum through the film's duration.
There's a playfulness to this trailer that you'd expect from a film called The Three Musketeers. It comes across like what a Pirates of the Caribbean film would be like if Johnny Depp as Captain Black Sparrow were absent and Orlando Bloom was thrust into the starring role.
The Three Musketeers is directed by Paul W.S. Anderson and, in addition to Bloom, stars Matthew Macfadyen, Ray Stevenson, Luke Evans, Logan Lerman, Milla Jovovich, Mads Mikkelson, Gabriella Wilde, Juno Temple and Christoph Waltz. The swashbuckling adventure hits theaters on October 14.
Watch The Three Musketeers trailer in high definition at Apple.