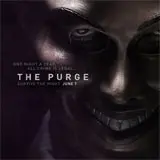 The Purge did just that to the competition at the North American box office on Friday as the low budget horror film soared into first place. Universal's surprise hit easily bested fellow newcomer The Internship with Vince Vaughn and former champ Fast & Furious 6 in a debut that must have left rival studio executives scrambling to understand why and how to replicate the feat.
Co-produced by Transformers director Michael Bay, starring Ethan Hawke and Lena Headey, and made for a piddly $3 million by today's budget standards, The Purge proved the value of social media marketing – especially on Twitter – to drum up an enormous amount of interest and turn it into a huge opening by converting ticket sales. Friday's estimated take of $16.7 million, including $3.4 million from Thursday night showings, has shocked everyone in Hollywood, and puts the film on pace to reach $38 million for the weekend.
The Purge managed to pull off this amazing opening at a time not traditionally aligned with horror releases. It opened in 2,536 locations, fewer than each of the eight films below it on the box office charts. To really nail the strong opening home, last weekend Sony's big budget flop After Earth starring Will Smith opened at almost 1,000 more locations and earned nearly half as less with $9.8 million.
The Internship took second place on Friday with $6.5 million and should wrap its opening weekend somewhere in the $20-$23 million range. Vince Vaughn's previous comedy The Watch only made $4.5 million so The Internship is a rung higher on the success ladder.
Fast & Furious 6 sped into third place with $6.1 million and has now earned $189.3 million in North America to date. The $200 million mark will be eclipsed by Sunday. Worldwide totals now stand at $499.5 million and counting.
Summit's Now You See Me landed in fourth place with $6 million in its second weekend of release. The magic thriller $47.9 million overall and should pass $50 million before the weekend closes out.
Wrapping the top five on Friday was Epic with $3.6 million. Epic has now reached $75.7 million since release and has slowed to the point where passing $100 million is not a definite, especially after Monsters University arrives on the scene to gobble up family audiences.
Tomorrow we will report the weekend box office studio estimates that will determine how high The Purge was able to climb and whether Vince Vaughn and The Internship successfully kept their bumper in front of Fast & Furious 6 for a second place finish.