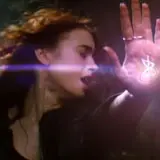 There's a secret world of monsters and demons hiding in plain sight in the first trailer for The Mortal Instruments: City of Bones.
Lily Collins, Robert Sheehan, Lena Headey, Jonathan Rhys Meyers and Jamie Campbell Bower star in the big screen adaptation of Cassandra Clare's popular young adult book series. Part Harry Potter, part Twilight, and as the trailer reveals, part a lot of other things, The Mortal Instruments is the first film in a planned series that follows Clary Fray (Collins) and her discovery of another world and her family's secret connection to it.
Sony has made sure to include quite a bit of action in this first look at The Mortal Instruments: City of Bones, perhaps to help distance itself a tad from its overly sappy paranormal romance cousin, Twilight. There appears to be plenty of swordplay sprinkled throughout, and a flamethrower that pops up on a couple occasions.
Harald Zwart (The Karate Kid) directs with Jared Harris and CCH Pounder adding some age to the youthful cast.
The Mortal Instruments: City of Bones arrives in theaters on August 23, 2012. The book is available here at Amazon.com.