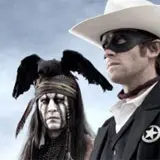 The Lone Ranger galloped into Comic-Con 2012 today in the form of an action-oriented trailer light on fluff and heavy on thrills. It was just the sort of positive response Disney needed for their summer 2013 tentpole after a production false-start due to a bloated budget.
Roughly 6,500 attendees gathered in Hall H at Comic-Con 2013 for Disney's panel and were surprised to see anything from The Lone Ranger considering it wasn't one of the films being promoted. Those on the docket with panels including Frankenweenie, Wreck-It Ralph and Oz, the Great and Powerful. Those in attendance on the various panels included Tim Burton, Mila Kunis, Michelle Williams, John C. Reilly and Sarah Silverman.
Despite Disney's heavy emphasis on other upcoming projects, ride into Comic-Con The Lone Ranger did with Armie Hammer as the masked hero and Johnny Depp as his guide, Tonto, hanging off the bottom of the train at one point. The footage was described as being darker than Depp's recent efforts with Hammer's Lone Ranger looking disheveled. There will be humor, of course, but Disney isn't pushing that aspect of the film at this time – much to the appreciation of those in attendance.
Those wondering where the film's infamous $200 million plus budget went – other than Depp's salary – will be happy to hear that part of the footage featured a spectacular train crash.
Unfortunately there's no word on if or when The Lone Ranger Comic-Con trailer will make its way online so the rest of us will have to wait to see just how spectacular the train sequence is. Disney said the trailer will not be available online "immediately," but that doesn't rule out an appearance at some point in the near future.
The Lone Ranger is directed by Gore Verbinski and will be released in theaters on July 3, 2013. The Comic-Con trailer will be shared as soon as Disney decides the cut the cord and let it hit the web.
Source: L.A. Times