Capcom has given Monster Hunter 4 Ultimate players the greatest gift in the history of everything: Link's Armor and weapons from the Legend of Zelda series, and it is absolutely free.
The announcement was made via Capcom's Unity blog, and hunters can now download the March DLC pack, which includes the Hero of Time's tunic, hat, sword, shield and bow.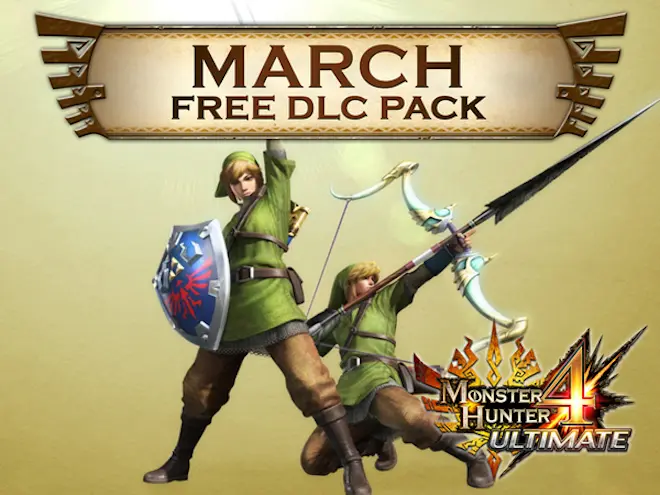 Also included in the Free Monster Hunter 4 Ultimate March DLC pack are the following:
14 new quests
11 new weapons
4 complete armor sets (8 if you count Blademaster AND Gunner) plus the 3 Fan Club pieces
2 Palico armor sets
1 Palico weapon
1 Bonus Palico: Calico Red
2 Guild Card backgrounds
1 Guild Card pose
9 Guild Card titles
1000 Caravan Points
To get the March DLC pack, hunters need to download from the game's start up menu (under the DLC sub-menu). The catch is, for the Legend of Zelda items, hunters will have to seek out and kill a trio of legendary monsters, known as the "thunderous trio" in a quest called "Three Virtues." Defeating these beasts will give the hunter the Triforce, which is then used to craft Link's armor and weapons.
Capcom's Yuri Araujo has promised something cool for April's free DLC pack, but really, how can they top this? Could it be Samus, from the Metroid series? The March DLC pack comes on the heels of the launch pack, which included the items allowing players to outfit their companion Palico as either Mario or Luigi.
Whatever April brings, other than, you know, showers and warmer temps, Link's armor is available now and Capcom is promising more free DLC for Monster Hunter 4 Ultimate going forward. There's never been a better time to be a hunter.
[Image courtesy of Capcom-unity]