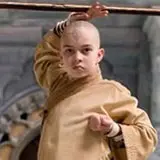 Producer Frank Marshall Tweeted late last week that the anticipated first full trailer for M. Night Shyamalan's Avatar: The Last Airbender has been delayed from debuting this month all the way to February.
The reasoning behind the delay per Marshall's Tweet is that ILM has not finished enough shots despite the effects being on schedule. That makes some sense given it is an effects-heavy film but if so is atrocious planning on Shyamalan's part.
I'm thinking there might be more to the delay than some missing CGI. Pure speculation here, but Fox might be waiting for James Cameron's Avatar to come and go before unspooling the first full look at Night Shyamalan's flick which shares the same name. The last thing Fox needs is their film getting lost in consumer confusion.
So for now, The Last Airbender teaser trailer and fuzzy character images will have to suffice.