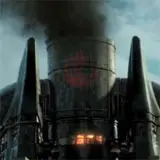 There are several The Last Airbender tv spots, but according to Paramount Pictures the only available clip from M. Night Shyamalan's upcoming fantasy film is the one debuting yesterday at Yahoo! Movies.
In the clip, Jackson Rathbone and Nicole Peltz detect some ash in the air with some suspect acting. They then realize the Fire Nation is coming and you get to see the massive ships spewing smoke approaching a fortified wall. This is likely the preface to a massive battle that's been seen in the trailers and tv spots.
The Last Airbender also stars Noah Ringer, Dev Patel, Aasif Mandvi and Shaun Toub. It arrives in theaters on Thursday, July 1 in 2D and 3D formats.